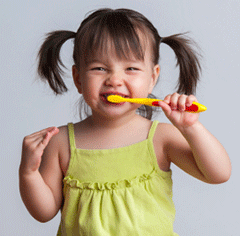 First dental visits are typically more about educating parents and caregivers than intensively treating children. Comfort is established at this appointment for both child and parents. This first visit establishes the groundwork for a dental home and continuing preventive care. Studies show that the younger a child is when first visiting a dentist, the less likely that child is to return to the dentist with cavities or the need for emergency care.
With this in mind, "Less is more" is a good rule to follow when discussing your appointment with your child. Parents should not make a big deal out of the visit and refrain from using any words that could cause unnecessary fear. Don't give your child more information than he/she is able to understand. Avoid using words like "hurt", "drill", "x-rays" or "shot". We are experienced in dealing with children with anxiety and can explain treatment procedures in a positive and pleasant manner to avoid any anxious or negative feelings toward dentistry. Avoid comments that may appear to be reassuring such as, "Don't worry, the doctor won't hurt you." Such comments actually make your child more anxious rather than calming them. After all, your child knows that when experiences are really going to be fun, you would never tell them not to worry.
Don't worry if it doesn't seem like your child will be cooperative at his/her first visit. It is normal for children to be anxious about the unknown and they sometimes exhibit avoidance behavior in the form of squirming or crying. Parents should not be surprised or embarrassed if their child does not initially cooperate in the dental office. Children take great pride in overcoming their fears and most of our patients who have cried initially leave with a big smile on their faces.
Click here to request an appointment and one of our team members will contact you soon to schedule an appointment time.