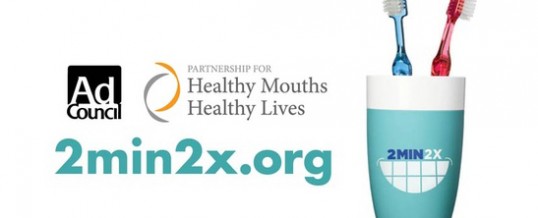 During the past year, you may have seen ads online, in magazines or on TV promoting the Kids' Healthy Mouths campaign.  The centerpiece of this campaign is the informational website 2min2x.org which is full of helpful tips for creating and maintaining healthy smiles.  It even includes 2 minute videos for kids to watch while they're brushing so they'll know when they've brushed long enough.
The Kids' Healthy Mouths page includes terrific age specific oral hygiene tips and suggestions for teaching your children how to properly take care of their mouths.
Encourage your kids to brush with fluoride toothpaste.
Use a pea-sized dab of fluoride toothpaste for kids ages 2-6, and use slightly more when they're older.
Teach them to spit out the toothpaste when they're done so they don't swallow it.
For kids under age 2, just use a soft toothbrush and a little water; no toothpaste is necessary.
Help your kids place the toothbrush at an angle against their gums.
Make sure they move the brush back and forth, gently, in short strokes.
Help them brush the front, back, and top of teeth.
Teach them to brush their tongue to remove germs and freshen breath,
The latest addition to the campaign is oral health tips sent by text message.  Parents can sign up to receive 2 free text messages per month offering children's oral health tips.  Subscribe by texting "BRUSH" to 30364 or by visiting the 2min2x.org homepage.
If you have questions about any of the information you find on the website, don't hesitate to call our office or just ask us next time you're visiting us with your child for a checkup.
Share