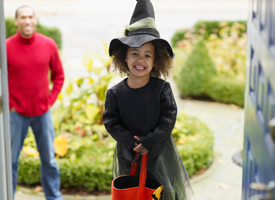 Halloween is right around the corner.  When all the excitement over costumes, candy and fun dies down, don't forget that your children's teeth might need a little extra attention.  After all, you want their teeth to be looking and feeling as good in November as they were in October.
The American Dental Association's Mouth Healthy website has a great collection of tips for keeping mouths healthy around Halloween and all year long.  Those tips are listed below.  Visit the page at Mouth Healthy to read all the not-so-scary details.
Eat Halloween candy and other sugary foods with meals or shortly after mealtime.
Avoid hard candy and other sweets that stay in your mouth for a long time.
Avoid sticky candies that cling to your teeth.
Drink more water.
Maintain a healthy diet.
Avoid beverages with added sugar such as soda, sports drinks or flavored waters.
Chew gum that has the ADA Seal.
Brush your teeth twice a day with an ADA-accepted fluoride toothpaste.
Clean between teeth daily with floss.
Visit an ADA member dentist.

Your friends at Salem Pediatric Dental & Orthodontic Associates wish everyone a happy and safe Halloween!
Share