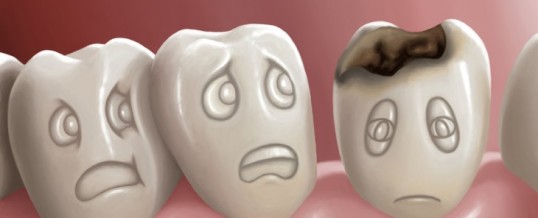 Tooth decay can begin as soon as a baby's teeth come in.  Decay in baby teeth can cause pain.  If decay is not treated, it can destroy your child's teeth.  An abscess (pus filled sac) from an untreated cavity can cause serious or even deadly infections.  And children with tooth decay may have trouble eating, so they don't get enough vitamins and minerals to grow up healthy.
When plaque on teeth (a sticky film of bacteria and bits of food) uses the sugar in food and drinks, it turns them into acid.  Each time a child eats or drinks, that acid can attack the teeth for 20 minutes or longer.  These attacks weaken tooth enamel.  Over time tooth decay can develop and a cavity can form.
To help keep your child's teeth healthy and cavity-free, follow these tips:
Clean your child's teeth daily.
Never put your child to bed with a bottle or training cup or use a bottle as a pacifier.
If your child uses a pacifier, do NOT dip it in sugar, honey or other foods.
Do not put pacifiers or spoons in your mouth before giving it to the child.  Decay causing bacteria in your mouth can be passed to your child.
Training cups should be used for only a short time.  Once your child has learned how to sip, the training cup is no longer needed.
Do not let your child sip sugary liquids often (including juice drinks).
If you have questions about preventing cavities in your child, please call our office or talk to your dentist at your next appointment.
Share