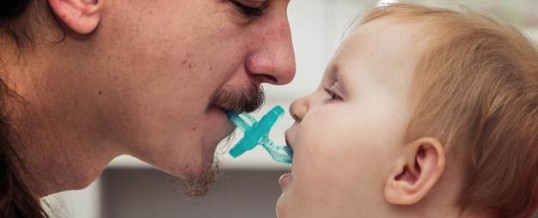 This past spring, the news was filled with reports about a Swedish study promoting the potential health benefits of parents handling pacifiers in a surprising way.  The study found that kids who sucked on pacifiers cleaned by their parents' spit were less likely to develop allergies than babies whose pacifiers were rinsed in water.  The authors suggested that harmless bacteria transferred via pacifier from a parent's mouth to their child's actually stimulated their immune system, helping the child build defenses to allergies.
The dental community and pediatric dentists in particular are concerned about one area of the study.  It ignores the concept of vertical transmission of cavities – the idea that harmful bacteria are also transferred from parent to child in this scenario.  Babies are born without the bacteria that cause cavities, Streptococcus mutans.  This bacteria can be delivered from parent to child on a pacifier but cannot be transmitted from adult to adult.  Therefore, if your child avoids Streptococcus mutans early in life, the risk of cavities later in life decreases dramatically.  Read more from the Massachusetts Dental Society.
If you have questions about what is right for your infant or toddler, call our office to schedule an appointment.  The bottom line is that you could be setting your child up for a lifetime of dental problems if you share a pacifier while they are young.
Share